TENDENCIAS 2
Steadily on the way to consolidating the home office with Future Family.
24/05/2023
The meaning of the term "home office" was not well understood, but as technology has evolved, working from home has taken hold, and with it, the home office. Concepts such as well-being, flexibility, functionality, ergonomics, or motivation, as well as the urgent need to preserve the environment, have undergone a dramatic change, both in the design and construction of the spaces and, as a consequence, in the office furniture, for contract and hospitality sectors, but also for the residential one.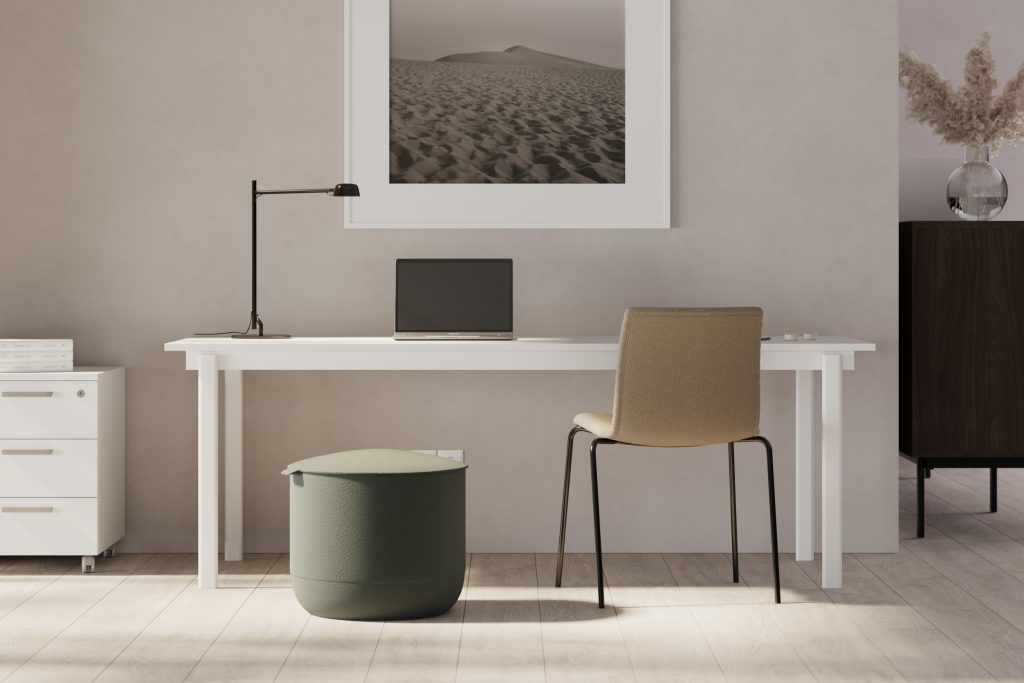 Pouf HAT_ desk TONO_ buc TENDENCIAS_ silla DATA
Around the world, there are more and more architects, interior designers, decorators, technicians, designers, furniture manufacturers, and many more whose projects help to design spaces, residential buildings, offices, hotels, etc. in a way that makes them more sustainable and at the same time more people friendly. An example of this is the new EDGE Suedkreuz office complex, designed by Tchoban Voss Architekten. It reduces the weight and carbon footprint as much as possible and has flexible and modular facilities and an outstanding absence of interior walls at all levels, which allows the space to be adapted to an important variety of requirements depending on the needs of the tenants.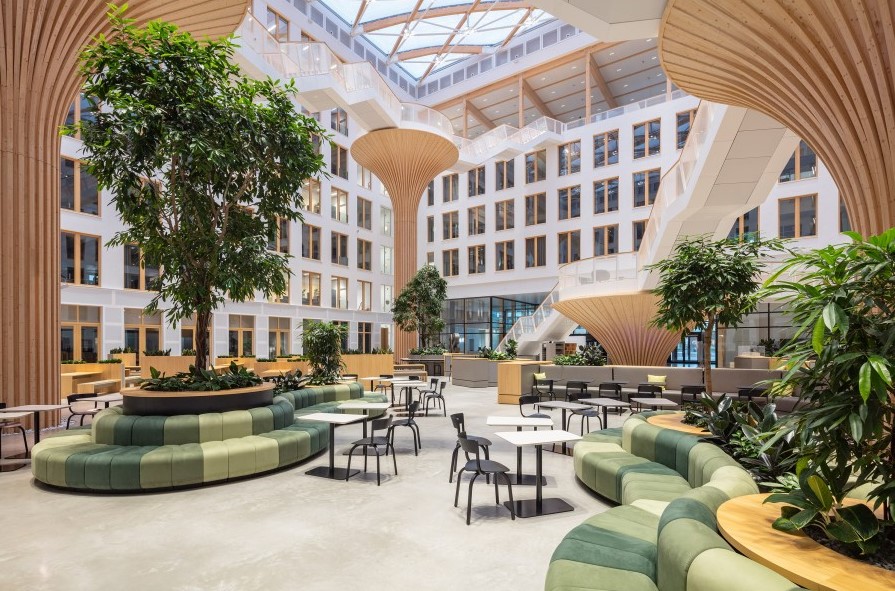 Oficinas EDGE Suedkreuz diseñado por Tchoban Voss Architekten
In any case, at home, the spaces dedicated to work have changed a lot in just about five years. Not only in terms for their design, but also in terms of their wider acceptance. Working from the couch or at the kitchen table is no longer feasible. We urgently need flexibility, ergonomics, comfort, and functionality to be able to work productively on the move.
Our lifestyle has evolved in a really short time. We have gone from residual home offices to a variety of hybrid spaces where design meets functionality. This is resulting in entire living spaces transforming into complete offices. Spaces that are as smart and efficient as a traditional office and where, thanks to the new furniture a new level of comfort and well-being can be guaranteed. In addition, their design elements help to boost employee productivity and motivation. This is why esthetics and functionality are also important factors.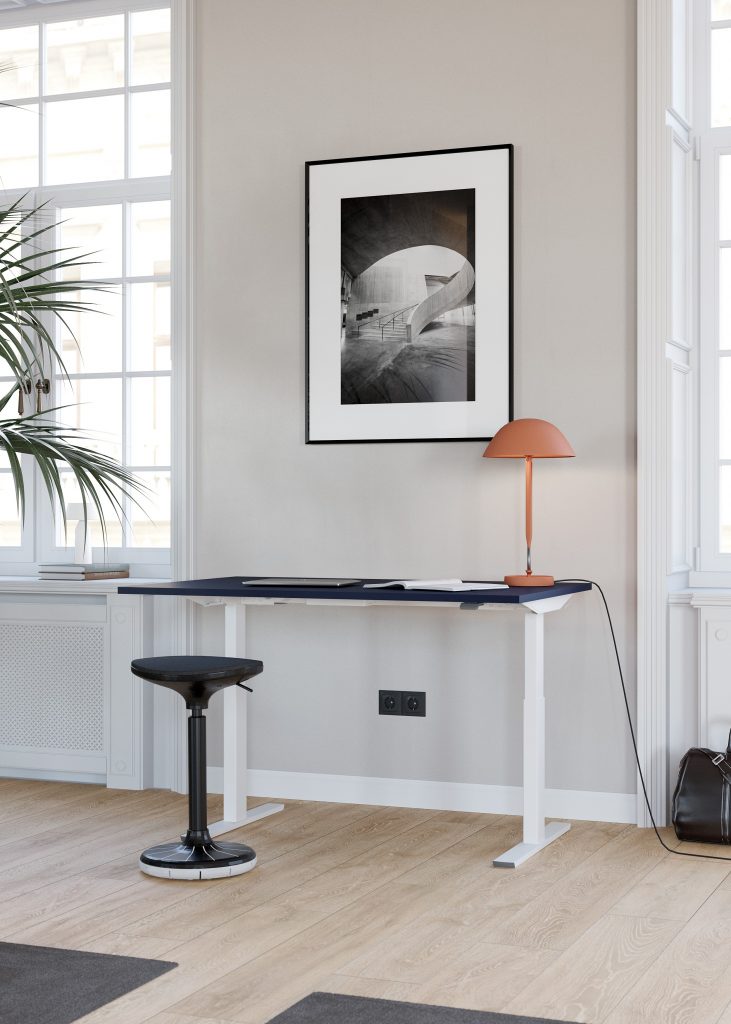 desk LOG IN elevable _ taburete W3
But what are the features that stand out the most in terms of space and home office furniture? There are essentially two. One is the need for flexibility. People who work remotely often have flexible schedules, which leads to a need for an equally flexible space. So, the workspace at home needs to adapt to the changing needs of the person. The second point is the importance of ergonomics. An appropriate environment in terms of space and lighting is a basic requirement, but properly configured equipment is also important to prevent injury and work properly.
This is the reason for the development of a whole range of equipment to meet the changing needs of remote workers. Height-adjustable furniture for every body type and posture to prevent injury and increase comfort. Ergonomic chairs. Integrated storage elements with built-in technology, to keep the workspace tidy and organized. Desks with optional USB charging ports and power outlets. Chairs with optional stands for mobile devices and screens.
desk TONO _ silla D1 _ armario TONO
In all this, we mustn't forget the sustainable and environmentally friendly aspects of furniture, because this is a growing trend in the industry that allows to reduce waste, preserve resources, reduce emissions, and protect biodiversity.
It is, therefore, the dawn of sustainability, well-being, new constructive and working ways, that have led Ofitres to set a new goal: the development of a functional and sustainable office furniture that, thanks to its design and inherent elements, easily fits into the offices of the future, be it the traditional office or the home office. This is how the Future Family was born: Furniture proposals with added value. A furniture that offers different aesthetic possibilities, thanks to its wide variety of finishes and the numerous modular options that allow the furniture to be assembled according to one's own needs. Smart, functional, and versatile furniture for individual work areas in offices, at home or in common areas in shared spaces.
This is the living space of the future. Places where everything, including suitable furniture according to functional and emotional needs, allows for a new cognitive accessibility. Places that make our lives easier.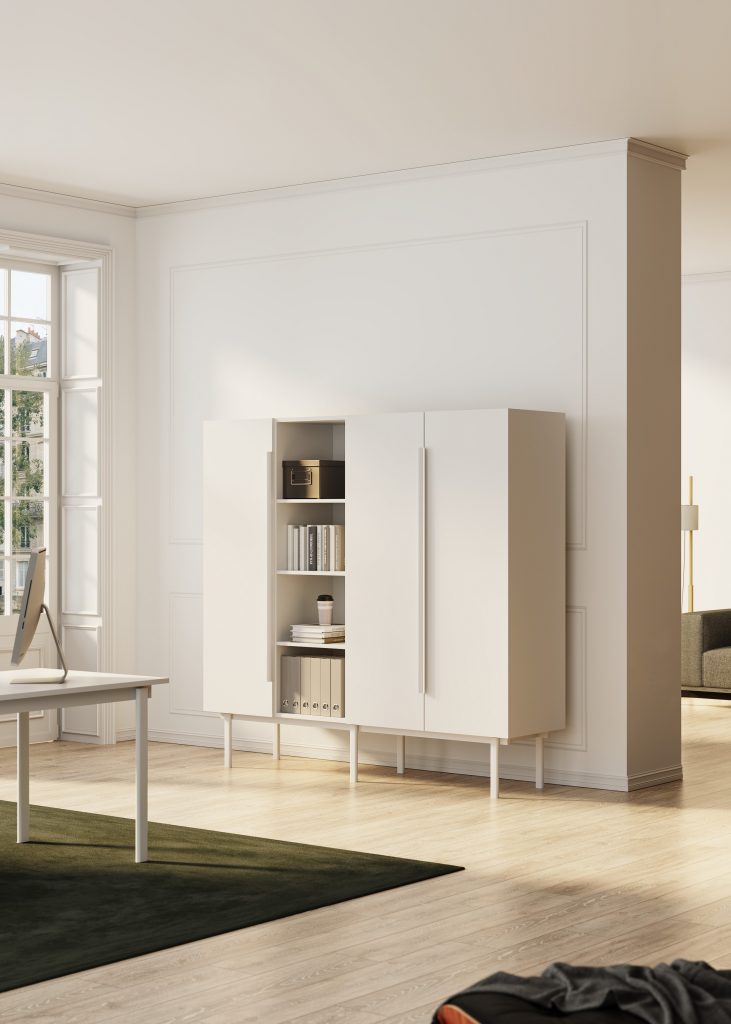 TONO