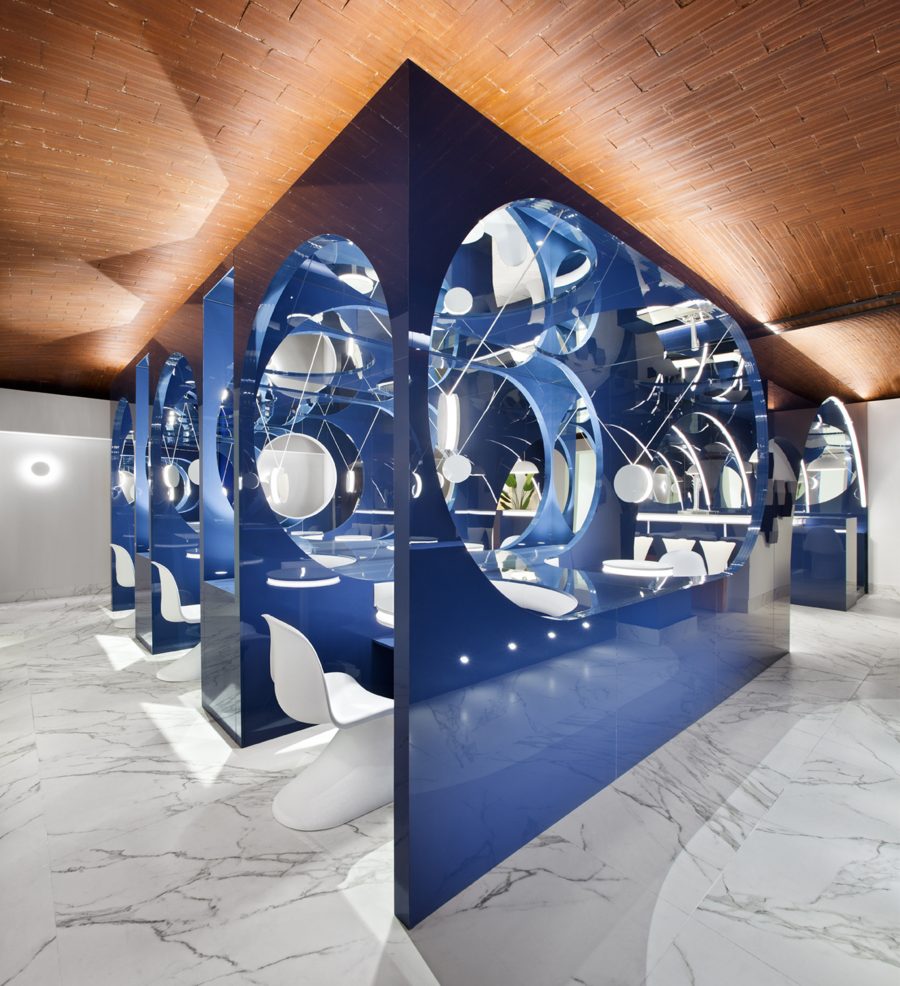 This is the innovative, eclectic, and imaginative real art space that the Ruiz Velázquez studio has created on behalf of the Alvic company for the Casa Decor 2020 event.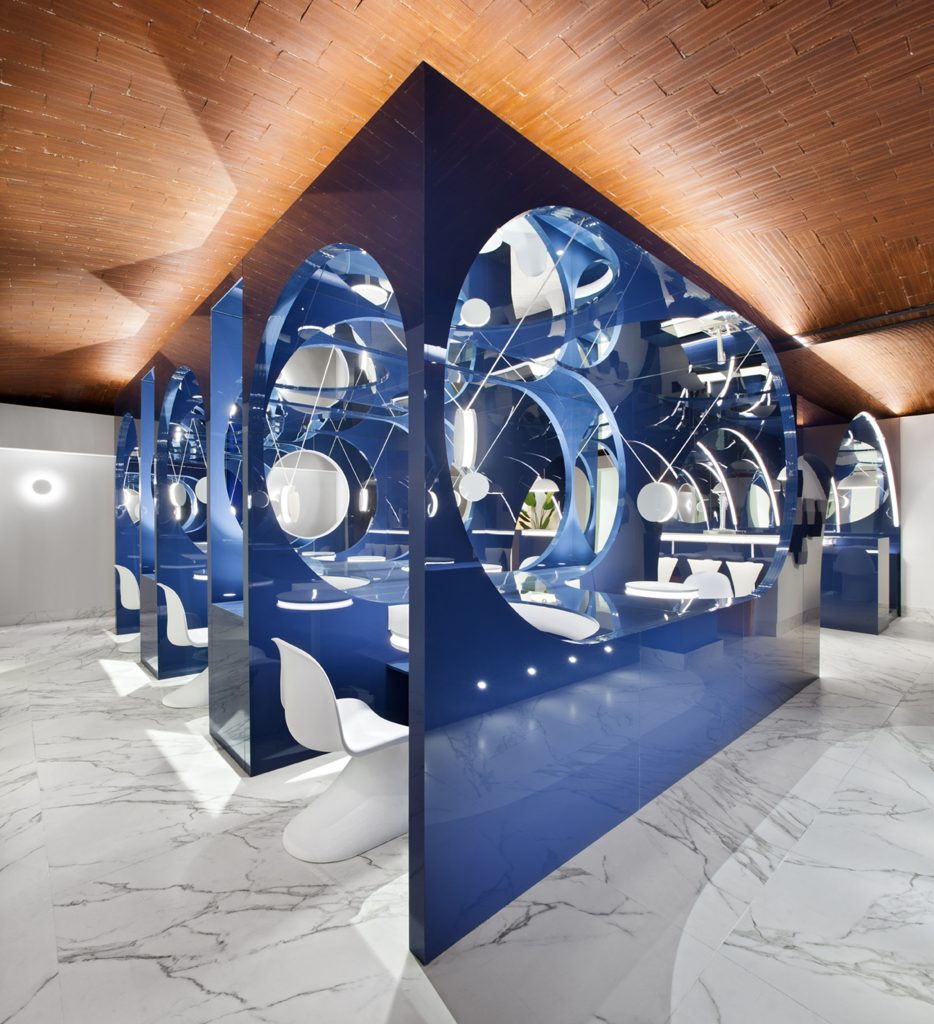 ALVIC will be present at the new edition of Casa Decor 2020 (From March 5th to April 19th) for the fourth year in a row. For this edition, the Spanish multinational has designed a Lounge Bar which is more than just functional and aesthetic. It is an imaginary scene of visual games which creates, with panels and cut-out surfaces, furniture and perspectives, a distorted reality that connects the visitor with the raw material that transcends the authenticity of Alvic's products in this welcoming lounge for attendees of the event and enthusiasts of the brand.
The space is orchestrated in several visual planes. The blue plane with the walls and their enormous empty circles, the central middle plane and the archways opposite the aisle; the solemnity of a flat marble-white floor from the Neolith brand and the Luxe by Alvic pearl gray details and inserts, all under the warm brick dome of the existing space.
The fragance created by Dejavu Brands evokes mystery and dreamy airs, which are highlighted by cedar wood and modern notes of cilantro and cardamom.
The indigo blue wooden panels with a gloss finish from LUXE PLUS are cut to create an imaginary spatial geometry which expands the perspectives of all the dimensions of vision that the space offers from any angle.
In the heart of the dining area or refectory, Alvic presents an interesting game of geometry, based on the kaleidoscope and the Japanese art of cutting paper, kirigami, creating an artistic-imaginary scene with the symmetrical repetition of shapes that will allow the visitor to enter into the work of art. The modules are constructed entirely with Luxe PLUS material from ALVIC, which amplifies the vision of the material beyond a covering.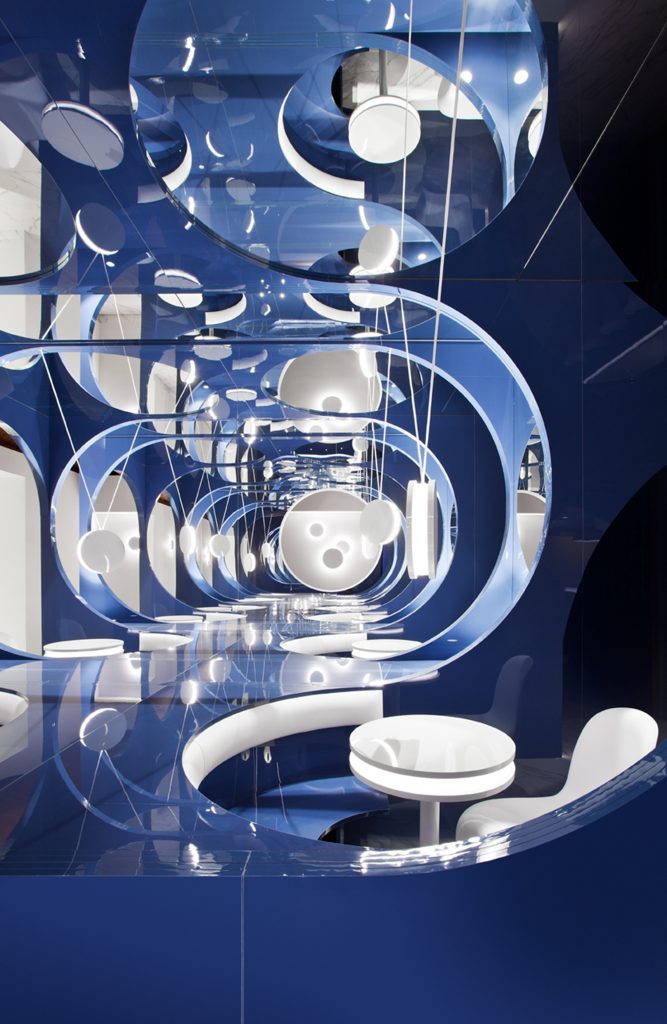 Inside this blue sculpture, visitors are submerged in a vibrant landscape of arches and circles that are reflected in all directions. A reflective landscape which can create a material reality, as if the art were a pure, direct, and interactive experimentation.
The entrance to the space invites the visitor to immerse their self in an artistic space and to participate in it. In the anteroom we repeat the well-known artistic representation of the brand with different colours of panels from ALVIC: Burdeos, Curry, Pumpkin, Indigo Blue, Aquamarine, Pearl Gray from the Luxe Plus collection, a visual, attractive, and decorative scene entirely different from the uniformity and the serenity of the blue chosen for the interior of the space, a pleasant colour that inspires confidence, which is cold yet passive, and that contrasts with the movements and turns that stimulate the area that follows like a monolithic artistic enclosure of full and empty spaces.